Ship Repair_Reconstruction & Construction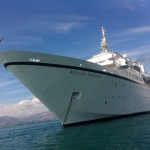 Our company is active in Ship Repair_Reconstruction and Ship Construction and is a modern and dynamic shipbuilding unit with knowledge, experience and expertise. GE.N.E Ltd established in the current form and title in 1983 and mainly specializes in the steel welding Repairs and piping works. Since its establishment is operated by Angelo C . Platis , who is one of the most experienced and recognized managers in Ship Repair_Reconstruction & Construction . GE.N.E. Ltd during more than 45 years of operation has successfully completed major projects such as widespread groundings, damage to other bulb bow and overhauls associated with plates and pipe renewals. Furthermore, it has completed recently, new Ship constructions and changes in Ro-Ro vessels, cruise ships and industrial buildings.
Ship Repair_Reconstruction & Construction with expertise and infrastructure
GE.N.E. Ltd employs permanent, experienced and fully trained technicians, specialized in Ship Repair_Reconstruction & Construction and also certified welders with SMAW & ΜIG-MAG/GMAW for steel and aluminum.  It provides services such as welding, Piping and steel welding repairs and specialized structures. The facilities are located in privately owned, modern and newly built factory in the Industrial Park of Schisto and feature the most modern steel welding machines, metal forming and retrofitting and other specialized machines, always offering its well-known excellent quality and reliability
The quality of our work travels around the world
All the above proves the company GE.NE. LTD as a valuable partner and pioneer in the Ship Repair and Ship Construction. After more than 45 years we are proud both we and our clients, for the work we had carried out and of course that the result of our labors which now travels all over the seas of the planet!